Palm Springs, Calif., 2021 – Epoch Solutions Group, an industry leader in field service solutions, announced today it had received a 2021 Esri IMGIS Award in recognition of being a valuable partner and supporting our GIS user community.
"EpochField works as a foundation for your network and asset workflows, enabling enterprises to digitally transform, automate, and streamline their field service operations. Users can monitor field workers and get the right people where they're needed when they're needed. The immediate, accessible integration of real-time data from mobile devices makes that possible." said Alex Miller, president, Esri.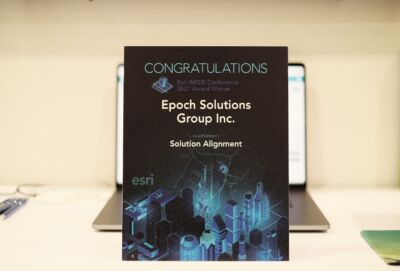 EpochField allows users to dispatch field crews efficiently using a simple, easy, and straightforward interface that is quickly understood. They can track the locations of operators, even third-party operators, whether their vehicle has GPS hardware or not. EpochField uses Esri's ArcGIS Enterprise to stream and map real-time data on their facilities and assets with the locations of their operators.
The 2021 Esri IMGIS award comes in recognition of EpochField supporting the Esri ArcGIS user community and their adoption of highly reliable, accurate, and innovative mobile mapping solutions.
Epoch Solutions Group is an Esri Partner Network Silver partner. EpochField has been adopted by Esri ArcGIS users for workforce management across sectors (e.g., electric, gas, telecommunications, water, municipalities, and more).
"We are absolutely honored to be recognized by Esri for this IMGIS award," James Street – Epoch Solutions Group CEO said. "We view this award as an assurance to continue striving towards innovating solutions for utilities of the future."