An Integrated Solution for Automating Your Field Workforce
A foundation for your network and asset workflows​
EpochField provides everything a utility needs, from field workflow creation and management to scheduling work and distributing asset map data to the field. Unlike any other single-solution application on the market, EpochField is easily configurable to meet your business needs now and in the future, across the utility industry.
EpochField is a set of applications that provides the first truly integrated workforce management and geospatial mapping solution. EpochField interfaces seamlessly with any organization's back-end enterprise systems to deliver work order information to operations managers, supervisors, dispatchers, and workers in the field.
EpochField enables enterprises to digitally transform, automate and streamline field service operations, from the frontline to third-party, back-office systems.
"Epoch Solutions Group understands the critical day-to-day management of a utility's essential network. We also understand that field crews require timely information regarding the location of all assets to safely and efficiently support this critical infrastructure."
– Ameren
"EpochField is a cost-effective solution with an intuitive interface and user-friendly tools."
– San Diego Gas & Electric
EpochField is developed on a highly configurable platform that can be tailored to any industry needs. With features such as configurable work order forms, automated scheduling and route optimization, offline viewing, and intuitive administrator tools, EpochField is the perfect solution for utility companies that need to view their assets on a map-centric interface.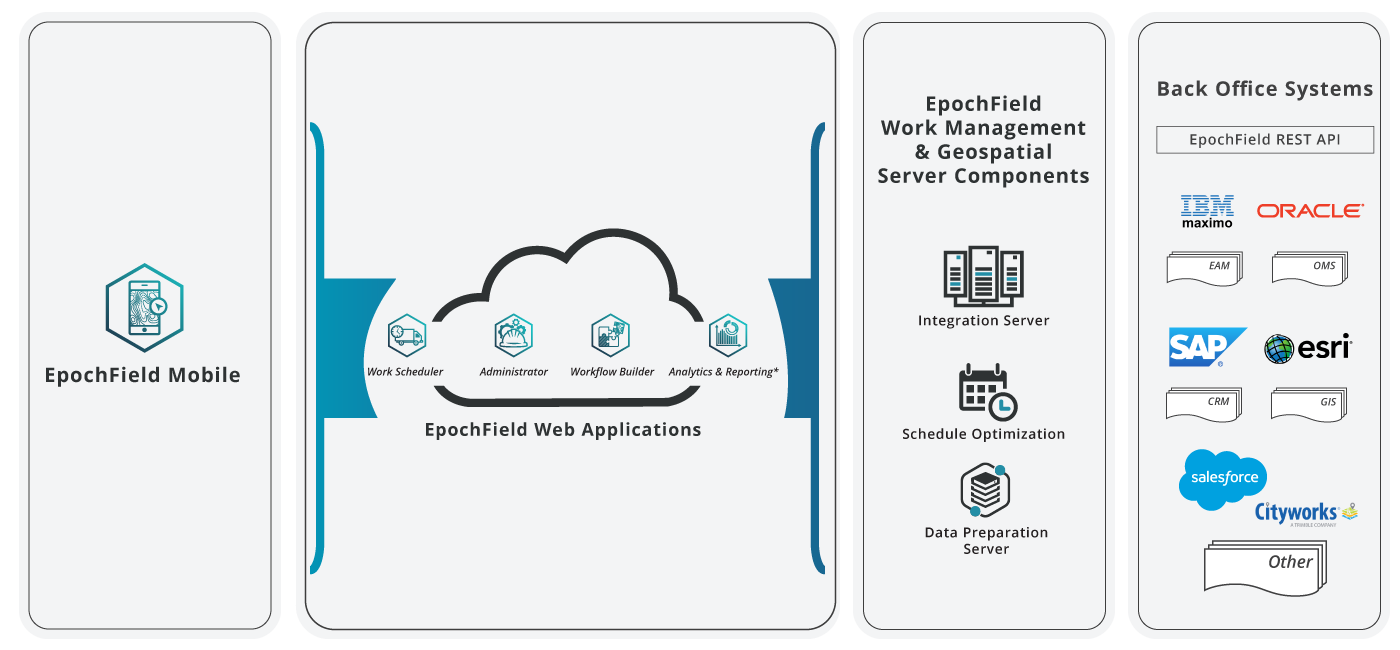 Mobile
Map-Centric Platform
EpochField is a multi-platform mobile workforce management solution that enables field crew to access and view asset data in a disconnected environment. EpochField provides this solution via a map-centric platform built on cutting-edge technology that supports the latest generation touch screen devices.
Workflow Builder
Intelligent Work Forms
The EpochField Workflow Builder application allows application administrators to build, view, edit, and configure the work forms used by EpochField Mobile users performing their assigned work in the field. Workflow Builder can create workflows and intelligent work forms for any work type with custom fields and define cross-field validation rules for data entry and values.
Work Scheduler
Scheduling & Dispatching
Take control of your scheduling and dispatching with the all-in-one EpochField Work Scheduler. Work Scheduler empowers operations managers or dispatchers with innovative solutions, including GPS-based field workforce tracking, automated scheduling and route optimization tools at your fingertips.
Schedule a Demo to See How EpochField Can Work for Your Utility Company:
EpochField's outstanding success has made Epoch Solutions Group a leading provider in modernizing a utility's field workforce. EpochField is a cost-effective solution with an intuitive interface and a suite of user-friendly tools that increases productivity while reducing operating costs. EpochField works as a foundation for your network and asset workflows, enabling enterprises to digitally transform, automate and streamline field service operations. Epoch Solutions Group continues to expand this functionality with the underlying focus and goal to provide the best tools and products to its customers.